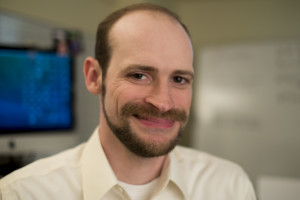 Andrew has nearly two decades of experience working in Instructional Technology.  He currently works as an Instructional Media Specialist at the GW Medical Faculty Associates in Washington, D.C. in the Emergency Medicine Department.  Previously he worked as a Multimedia Specialist at Dickinson College, where he was an Academic Technology liaison for Art, Music, Theatre & Dance, Film Studies, Community Studies, Education, Earth Science, Environmental Science and Psychology departments.  He managed the media center, smart classrooms, and maintained the video streaming solution.
His career started at Northwest Tri-County Intermediate Unit (IU#5) in 1998, while completing his Bachelors in Fine Arts from Alfred University. He worked as technology advisor for the Governor's Institute for Arts Educators. After graduating Andrew started full-time, working on state-wide and local projects, including PEEN Virtual Resources, Principals Technology Leadership Academy (a Bill & Melinda Gates foundation project), Teaching the American Story grant, PDE's eSPARC initiative, and the IU's Cyber Service.
In 2004 Andrew started his own consulting company called "iPeat Solutions" to assist small businesses create self-sustaining solutions and web presences, utilizing FileMaker Pro and WordPress.